Please follow this link for our remote learning plan.
Lockdown 2021: Messages from Mr. Prior
26.03.21
Just a little over a year ago we were told to close the doors of Broom Leys for the first time as the country went into lockdown. Little did we know then what the next year would hold for the school, for the children, parents and staff. We have now been back at school for almost three weeks and the children have been AMAZING. It is so good to see them back together and throwing themselves into school. Many are absolutely shattered!
After just three weeks back in school we have now broken up for the Easter break. It does seem a little odd but in some ways it is good for the reason just given - a time for children to recharge their batteries.
COVID cases have dropped significantly in our area. Just before school opened you will remember that NWLeics had the highest incident rate in the country. The latest data (for the week ending 19th March) shows that there were just 6 cases in the whole of that week in the Hugglescote and Bardon ward (which covers all the Botts Way and Bardon Road side of our catchment area) and just 8 cases in the Agar Nook ward (which covers the Greenhill to Meadow Lane side of our catchment area). The rates per 100,000 were 58.6 and 114.0 respectively – the national average was 56.3.
Whilst statistics are not the be all and end all of things these figures show that rates in the area are now the lowest they have been since October and there has not been a spike in cases with schools reopening – so thank you again to all those parents who are following the guidance and keeping us all safe.
Lateral Flow Tests – clarification:
We have had a couple of occasions recently when children might have been displaying symptoms of coronavirus and parents have said that they will test them at home because they have got some lateral flow test kits. This is not the purpose of the home test kits. Guidance about the use of the home test kits is very clear:
Lateral flow tests are not suitable for use on young children. Primary aged children are not included in the mass asymptomatic testing programme; only secondary and college age pupils, along with their families should be taking lateral flow tests twice a week.

Families who have access to LFT tests must be very clear that these are only to be used for regular testing where no one is suspected of having Covid-19. The purpose of these tests is to spot cases in the community that we wouldn't otherwise have known about.

Families should not use these tests on themselves or their children if they have symptoms. A PCR test at a national testing centre must be booked where infection is suspected. A lateral flow test could fail to spot someone who is just developing an infection but a PCR test will not. Having symptoms, getting a negative LFT result and assuming you are virus free could result in you spreading the virus to others.
To book a PCR test, visit: https://www.gov.uk/get-coronavirus-test
Contact tracing over the Easter holidays
If your child develops coronavirus symptoms within 48 hours of being in school (in other words, until Sunday evening), please let the school know by emailing us at cedar@broom-leys.leics.sch.uk as we will need to let other families know that their child has been in contact with an individual who may have been infectious whilst.
Where pupils test positive for coronavirus during the holidays, having developed symptoms more than 48 hours after being at school, you do not need to inform us but you should follow contact tracing instructions provided by NHS Test and Trace.
Where pupils need to self-isolate due to contact with a positive case during the holidays, we do not need to be informed about this until the first day of the Summer term.
A message from Coalville Hospital
"Unfortunately the surgery is yet again experiencing large numbers of parents using the surgery and pharmacy carpark facilities. We have very limited spaces for our patients and as a surgery for the local community we are still (as throughout the whole of the pandemic) continuing to offer services in house for all our patients.
For future information the surgery is now holding COVID vaccine clinics, twice weekly, where appointment times are only 2 minutes apart. As you can well imagine our carpark will be extremely busy during these clinics and the safety of all is paramount.
Please be aware that parking at the surgery is not permitted."
My School Fund
I am pleased to let parents know that Broom Leys is part the My School Fund initiative. This innovative scheme allows cashback for parents and for us to be able to boost our school's budget (and at no cost to anyone!)

How does it work?
Parents, guardians and carers can sign up to the scheme for free and start earning cashback on the things they buy in participating retail stores which, at the moment, are Sainsbury's and Argos. As you spend you will receive 2% cashback in the form of eGift vouchers that can be redeemed in participating stores. By linking your spend to our school on the My School Fund website we will also earn 1% cashback on your spend.
Add that all up across our school's network of families and together we can all make a big difference!
How to get involved
Visit myschoolfund.org to register for free and link to Broom Leys School. From there, everything you spend in participating stores will go towards helping boost our budget, plus your own!
You will be asked to link a card to your account, which is done safely. At present, as this is a new and developing scheme, they are only accepting Visa cards but the website does say that Amex and Mastercard will soon be accepted. You will also be asked to nominate one one store you would like to use your card in and where you will be able to earn rewards.
Sign up today at myschoolfund.org
My School Fund for parents - YouTube
Coalville Library
The library is offering a range of reading activities for children over the Easter holiday. The flyer can be found here.
Free Online Safety Parent Session
On March 30th at 3.30 p.m., Google and Parent Zone's 'Be Internet Legends' Team is offering a free digital drop-in for parents to help you support your child with their online safety.


This is a 30-minute session which will explore how you can help your child share carefully online over the holidays. Get tips on protecting private and personal information, ask a question, share advice or just say hi. Listen in live or watch back later when you have time.

https://www.youtube.com/watch?v=EcD7lFCrkFM
On a similar theme ThinkUKnow have produced a newsletter for parents about online safety, which can be found here.
Also, new controls have been released by YouTube to give parents better filtering management. Previously the only filtering option was 'Restricted Mode' which basically meant videos flagged as 18+ were filtered out. Called 'Supervised Experience' there are now filters for:

Explore - 9+
Explore More - 13+
Most of YouTube - all videos except 18+ (the current Restricted Mode)

YouTube released a handy explainer video which you can link to from your school website or share via your channels. The link is HERE.
12.03.21
What a sense of relief to have the children back in school this week. It is astonishing how quickly they have settled back into school routines and are engaging in the learning. Teachers are working hard in order to prioritise learning over the coming months.
It is noticeable where children have been well-supported at home during the lockdown as they have continued to progress over the last few weeks so once again, thank you to those parents who have worked so hard. We really do appreciate that remote learning is not easy and that it takes a great deal of perseverance and determination.
Infection rates in the area continue to fall but they are still higher than the national average. Because of this, we must keep ourselves and others safe by following all government guidelines. This includes the all-important distancing measures and I would encourage parents to think about this when either dropping their child off or picking them up at the start and end of school - and particularly on the way out of the gates.
There have been a few parents congregating out on the pavement, which means that those who are leaving the playground are finding that they have to walk through a group of people. One day we will feel comfortable about doing that again, but not at the moment. Please move on if you possibly can. Thank you.
I have been asked by Coalville Hospital to remind parents that they are not to park on the hospital grounds. The parking there is for staff and visitors only but a small number of our parents are making it impossible for these people to park easily. Thank you for your consideration towards others.
Staff Training Day: Friday 19th March
As advised on 6th January, school will be closed for a training day next Friday (19th March). This is training which has been postponed previously due to the pandemic and cannot be rescheduled, even though we have only been back from lockdown for a week. The children will benefit in the long term, though, as teachers implement new skills which will be developed on the day.
As next Friday is Red Nose Day, we will not be fundraising for this charity this year as school will be closed but should parents like to make a donation there are several other places which will be accepting your money.
Lateral Flow Tests for Parents
I know that a lot of parents have started to use lateral flow tests at home. These are the same tests as the staff at school have been using recently. As a reminder, test kits can be collected from the testing centre in the district council offices car park any day between 1.00 p.m. and 7.00 p.m. A report of one parent's experience of collecting test kits is below (01.03.21)
School Uniform
Our suppliers say they are still unsure if non-essential shops will be open full time and if the trying on of clothes will be allowed, so they are updating the Just-schoolwear website and adding more 'How to size your child' guides to help parents when buying for their children online.
All primary uniform is made to order (embroidered in-house) so to make sure all parents order for their children in plenty of time for 'back to school 2021' please follow this link to our school uniform page where you will find a flyer from Just Schoolwear and a link to their website.
08.03.21
We couldn't be happier with how this morning has gone. Children have come into school happily and confidently and are already getting back into routines. It's lovely to hear the chatter around school between friends who haven't seen each other for several weeks. It feels like school again!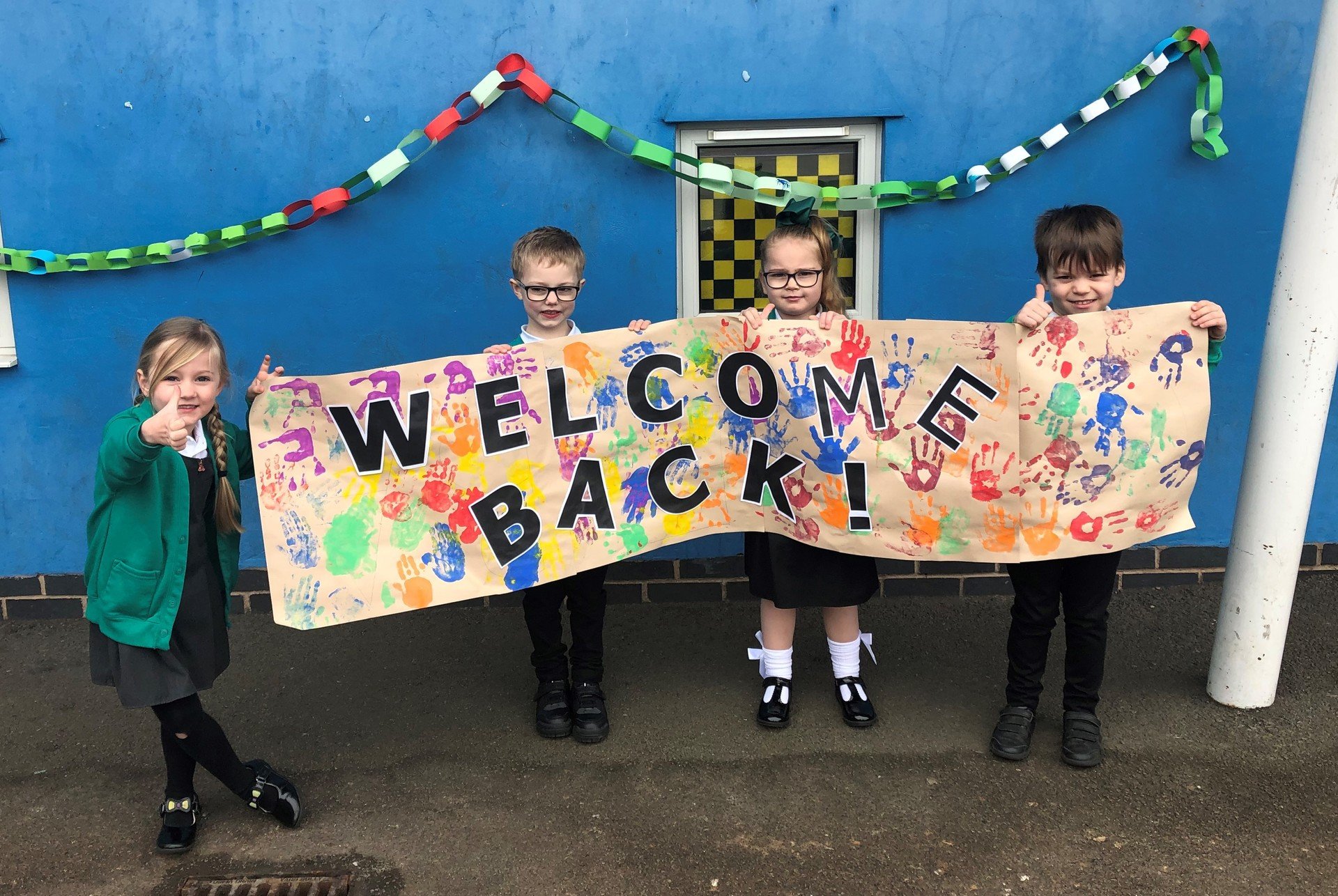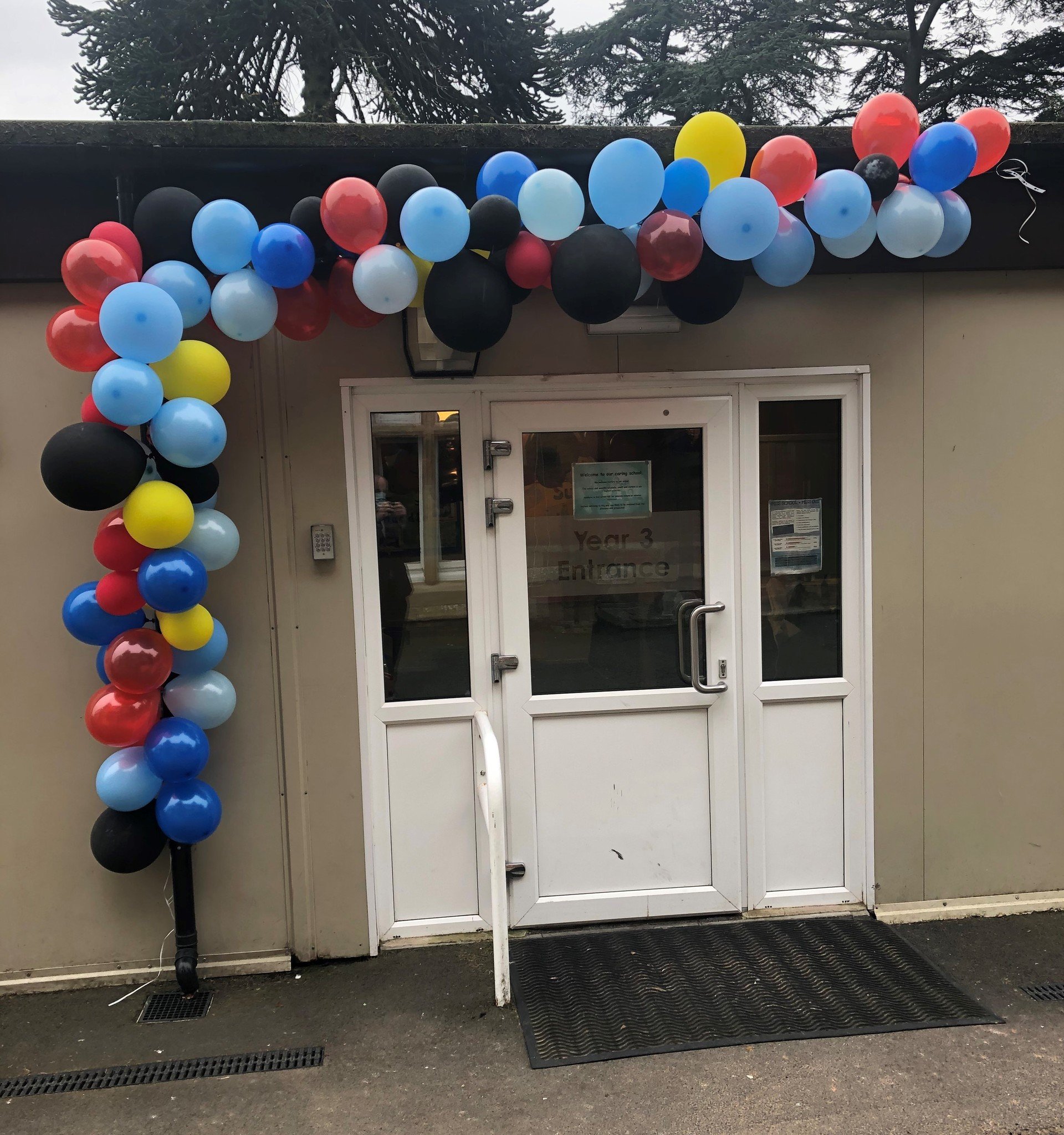 Since my message last Monday about parents being able to access lateral flow tests to use at home I have received a very helpful report from one mum of her experience of accessing the tests:
I collected 4 test kits today and it was very easy and well organised. No booking was required.
You go to Coalville Test Centre on the council's car park. Tell the officer in the hut you are there to collect lateral flow tests, you go through the tent and then wait at the portacabin door. You are then invited in and asked to sanitize your hands, you're then asked how many people in your household. I said 4. I was then told I would be given 4 kits with 7 tests in and to come back if more are required. I was directed to a gentleman who pointed at 4 kits on the table and said they were mine. He then directed me to another gentleman who asked me to wait while the sanitizer at the exit was cleaned, I used this and came out.
Very easy, well organised.
The tests are NOT for children but for the adults in your household. They are not meant to be used if you are showing any symptoms of COVID-19 (for this you should still book yourself a test) but are to help detect if a person in your household could be carrying the virus and not knowing. Staff at school have been doing the tests twice weekly now for a few weeks and if nothing else they help to reassure you.
05.03.21
Today has been, we hope, the last day of remote learning. I would like to say a big thank you and well done to all the parents who have worked tirelessly over the last few weeks to support their child at home. You have done a great job, even though we know it has not been easy. Take it easy over the weekend - you deserve a rest!
So it is BACK TO SCHOOL ON MONDAY!!!!
Please remind yourselves of the routines and the times of the start and end of the school day by re-reading the information on this page.
It is more important than ever that we all take the greatest care and stay safe. Whilst coronavirus rates in this area have fallen during lockdown they have not fallen as quickly as in the rest of the country. As a result parents will know that this week North West Leicestershire had the third highest infection rate in the country.
If anyone in your household displays any COVID symptoms then you must not send your child to school, you must stay at home and get tested. Look after yourselves and LOOK AFTER OTHERS by not risking the spread of the virus.
When dropping your child off at school in the morning or when picking them up in the afternoon, respect social distancing - especially on the way out of the playground. Look after yourselves and LOOK AFTER OTHERS by keeping your distance. Let the person ahead of you pass through the gap in the fence or through the playground gate before you.
World Book Day QR Quiz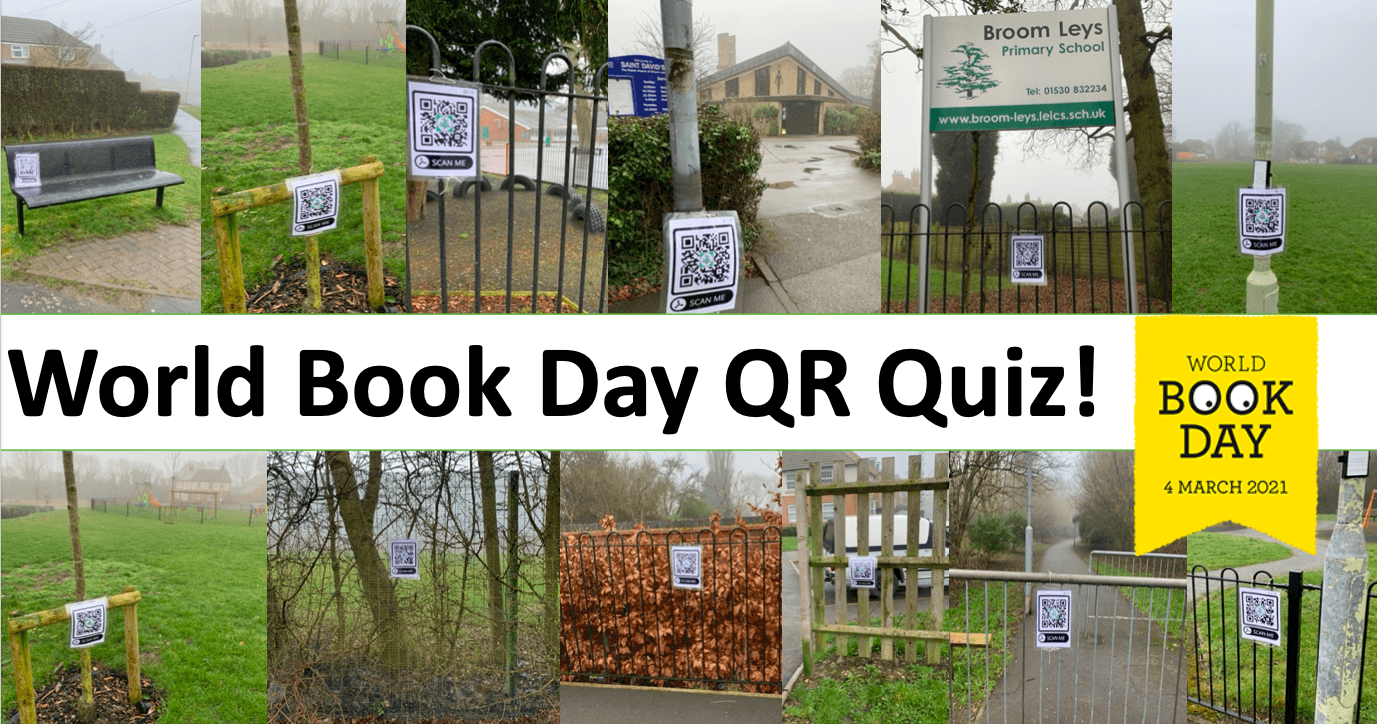 After the success of the Half Term word scramble, Miss Dearden and Miss Coxon have been inspired to create a similar geocache experience for children and their families. This time, the clues are all related to children's books. There are 10 QR codes to find; why not do this over the weekend as a family walk? It will take about two hours (maybe a little more, depending on the age of your children and how fast you walk!).
Details of the route and the location of the QR codes can be found here.
SEE YOU ON MONDAY!!!!!!
01.03.21
The government has confirmed twice-weekly testing using rapid lateral flow tests will be given for free to all families and households with primary, secondary school and college aged children and young people, including childcare and support bubbles, to help find more COVID-19 cases and break chains of transmission. These tests are for the adults in the house and NOT for primary aged pupils at this time.
With about a third of individuals with coronavirus showing no symptoms and potentially spreading it without knowing, targeted, regular testing will mean more positive cases within households are found and prevented from entering schools and colleges, helping to keep educational settings safe.
Rapid testing detects cases quickly – in under 30 minutes – meaning positive cases can isolate immediately. This can be the difference between children being able to stay in school, or a class being sent home due to an outbreak
All households with primary and secondary school and college age children, and childcare and support bubbles, will be encouraged to start regular twice-weekly testing as schools return. Tests will be available for adults in these households to collect from 1 March. As with pupil testing, this is encouraged but not mandatory. A secondary PCR test will be required for positive lateral flow tests which are taken at home, either through at home PCR testing or at a local PCR testing site.
How to get a rapid lateral flow test
There are different ways to get a test for school staff, pupils, and members of their households, childcare and support bubbles in England who do not have symptoms of coronavirus.
Members of households, childcare or support bubbles of school staff and pupils
From 1 March 2021, if you're a member of a household, childcare bubble or support bubble of staff or a pupil you can get a twice-weekly test:
through your employer if they offer testing to employees

at a local test site

by collecting a home test kit from a test site

by ordering a home test kit online
Get a test through your employer
Your workplace may offer rapid lateral flow testing to you. Contact your employer to find out more.
Take a test at a rapid lateral flow test site
You can take a rapid lateral flow test at a local site. Testing at these sites is assisted, which means you will swab yourself under the supervision of a trained operator.
You may need to book an appointment.
Find your nearest rapid lateral flow test site.
Collect test kits
You can collect up to 4 home test kits at a local collection point. Each kit contains 7 tests.
Anyone 18 or over can collect. You can check online if the location is busy before you go.
Find your nearest home test kit collection point.
Order home test kits online
If you cannot get tested at your workplace, or are unable to go to a test site or collect test kits, you can order a home test kit online.
The online service will be available from 1 March 2021
What twice-weekly testing involves
You will be asked to:
take a test twice a week (every 3 or 4 days apart)

report every result to NHS Test and Trace on the same day you take the test
Report your test result online or by calling 119.
If anyone tests positive or gets coronavirus symptoms, they should tell the school and:
self-isolate immediately

get a PCR test to confirm the result
A negative result means the test did not find signs of coronavirus. But this does not guarantee you do not have coronavirus, so you should keep following all coronavirus advice including:
regular handwashing

social distancing

wearing a face covering where recommended
Rapid lateral flow testing for households and bubbles of school pupils and staff - GOV.UK (www.gov.uk)
26.02.21
Returning to School
We are over the moon that we will be able to welcome all the children back to school on 8th March.
Staff are busy making plans for children to return but for parents the routines will be very much the same as they were before Christmas with the morning drop off and afternoon pick up.
A reminder of the routines can be found here.
I would ask ALL parents to keep to the times of the morning drop-off in order to avoid confusion and queues. It is also vital that parents maintain a distance from each other and from our members of staff and wear a face covering on the school site.
Parents will be aware that the most recent data shows that Bardon and Hugglescote were ranked as the 11th most affected area in the country this week. We need to keep our children and our staff safe. Everyone needs to follow the distancing guidelines and, if anyone in your household displays any symptoms of coronavirus you must keep your child off school.
Please remember that, as advised to parents in the message on 6th January (see further down this page), staff will be having a training day on Friday 19th March and school will not be open to any children. This is some really important training which we are unable to reschedule, unfortunately.
Half Term Word Scramble
We were staggered by the number of families who completed our Half Term Word Scramble. So many of you messaged us to say how much you had enjoyed a solid two hour walk around the area hunting for the QR codes. Watch out for another one in the near future!
If you are still wondering, the letters spelt out the word 'resilience'.
Specialist Leader of Education
Congratulations to Mrs. Timson, who this week has been designated as a Specialist Leader of Education (SLE) by the Forest Way Teaching School Alliance. This means that Mrs. Timson's teaching expertise in the field of English has been recognised by the alliance and they may call upon her to provide support to other schools. Mrs. Timson is the school's sixth SLE, joining Mrs. Barnard (mathematics / assessment), Mrs. Yeomans (assessment / closing the gap), Mrs. Hicks (Early Years Foundation Stage), Miss Johnson (mathematics) and Mrs. Beswick (mathematics).
Donations to School
As part of their World Book Day celebrations, UK based telecommunications company Teleperformance have sent some free Mr Men books to UK schools. Our school was nominated by one of their employees at their Ashby-de-la-Zouch site. We took delivery this week of a boxed set of 48 books. Thank you!
Amazon donated six Kindle Fires to support children with remote learning. These were distributed to some of our families a few weeks ago and have been put to good use.
The NEU (National Education Union) has donated £1,000 for the school to spend on resources such as pens, pencils and paper. This has helped us in our endeavours to provide home learning packs for some of our children.
Wellbeing Support Project
North West Leicestershire District Council are launching a Wellbeing Support Project for residents in North West Leicestershire who may be most in need of support to remain physical active during the ongoing pandemic or indeed most in need of the benefits of physical activity during this time. The offer of support includes:
Activity packs

1:1 wellbeing walks per week

Active together telephone support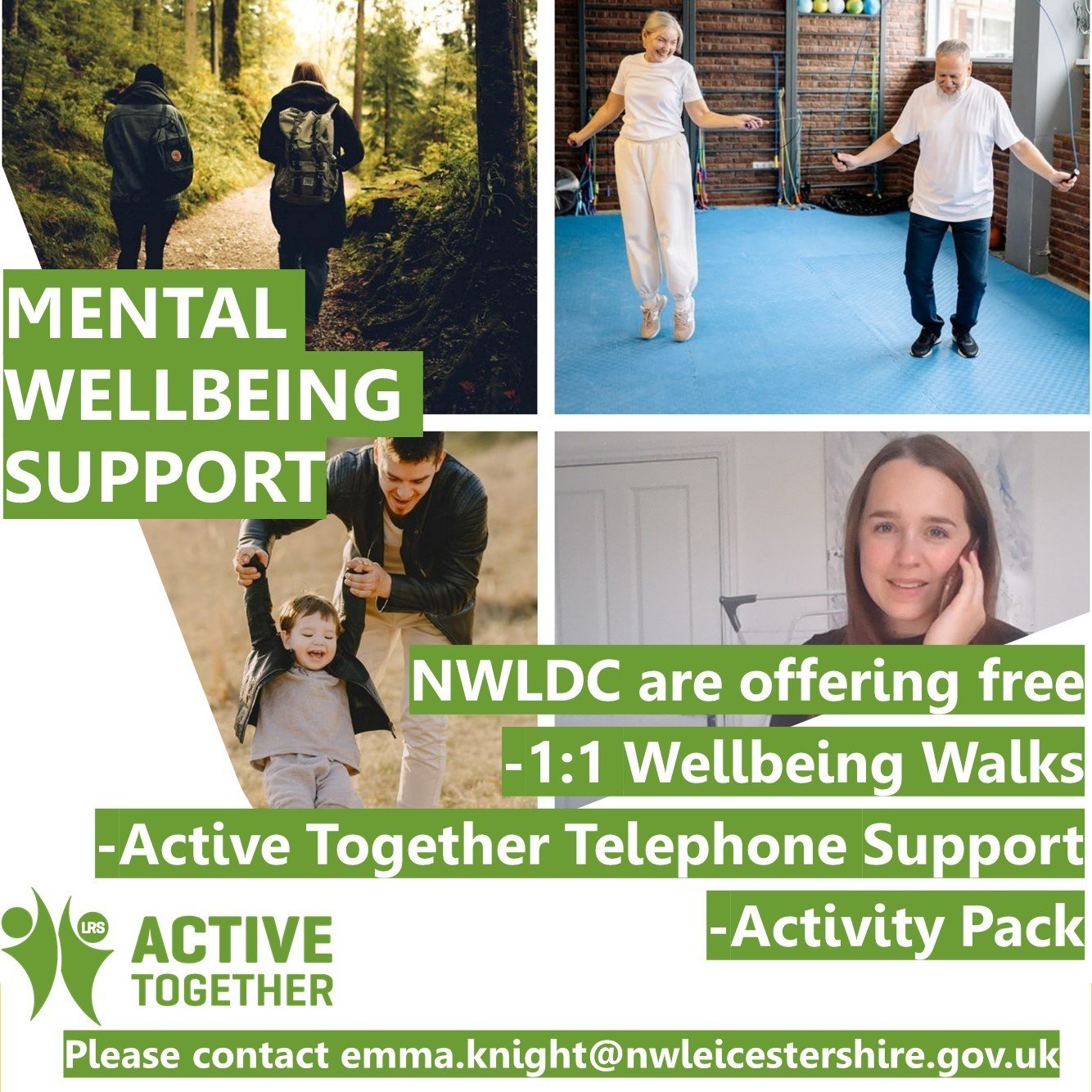 12.02.21
Today is the end of this half term. I would like to pay tribute to everyone for all their hard work to keep things going over the last six weeks and for keeping a smile on their faces. We have absolutely no insight into government plans, as you know, but we are hoping and praying that remote learning will only have to continue for two more school weeks after the break ………….
Broom Leys Gallery
So many children submitted a self portrait after last week's art day that it took quite some time to display them all on our 'Stronger Together' gallery. Well done to all the children for their efforts and thank you to the staff who braved the cold and snow on Monday to attach the pictures to our railings.
If you have not yet seen the gallery, why not take a wander down to school as part of your daily exercise to go and admire it and find your child's portrait?!
Half term word scramble!
This weekend, the year 5 team will be going out to the local community and hiding some QR codes for you to find over the half term. They will look like this:
Use the camera app on a mobile device to scan each code (example in the picture shown). Each code will reveal a letter, when you put all the letters together, it will spell out one of our gem powers (school values). Once you have found all of the letters and cracked the code, we would like you to post what you have found on your Class Dojo or Tapestry page. If you solve the code, you will earn 10 Class Dojo points!
As a practice, use your mobile phone's camera to scan the above QR code and see what message you get.
This is another opportunity for you to take your daily exercise!
Further information and the route can be found HERE but don't try this until Monday at the earliest as the QR codes are not yet out there! We will message parents once they are available.
Oak National Academy
Parents will know that we often make use of the lessons on Oak National Academy as part of our remote education. All online lessons from the Oak National Academy are now data free on a mobile. All major mobile networks have made the site "zero-rated", meaning any family can access its lessons without any data charges or using any data limits, when accessed on a mobile.
The Family Learning Team
The Family Learning Team have online courses starting after February half term - Phonics Fun and Maths Fun (for Parents with children in Reception) and Making Sense of English in KS2. All courses will help parents and carers during lockdown as they support their children's home learning and as the children return to school.
The Family Fun area on the GoLearn website is available to all families and has lots of free resources, activities and ideas for supporting children. This is updated on a regular basis.
SafeToNet
SafeToNet is an app for parents to help them safeguard their children from online risks like cyberbullying and sexting, whilst always respecting their child's rights to privacy. The SafeToNet Foundation is providing UK families with free-for-life access to the SafeToNet safeguarding solution during coronavirus. Using the code: SAFE, parents can get free access to the app which has wellbeing activities and adds a safeguarding keyboard to the child's phone.
Half Term Break
Next week is the school's half term break. No work will be posted on Tapestry or on ClassDojo, nor will there be any phone calls home.
We will be back at virtual school on Monday 22nd February, which is the day Boris has promised us he will be outlining a route map to re-opening schools. Keep your fingers crossed!
05.02.21
We have one more week until the half term break. If schools re-open on 8th March as has been said there are just 15 more school days before we will, hopefully, be welcoming the children back. This is something I really hope happens, for everyone's sake.
In order for schools to re-open, the government needs to be certain that cases are low and are continuing to decrease and that the rollout of the vaccine is on track.
As reported to you last week, cases in our area are above the national average and they continue to be. This week we have had to close our Year 2 bubble due to a positive test and we know of several parents who have tested positive. It is important that parents continue to inform us if they have a positive test result in their household, even if your child is not currently attending school.
Last week we introduced home testing kits for all staff at Broom Leys. Every member of staff is carrying out a home test twice a week. These are aimed at identifying anyone who may be carrying the virus but not knowing it. The tests are being carried out as a further measure to help keep our staff and our children safe.
Safer Internet Day
Tuesday (9th February) is Safer Internet Day. This is a day when we would usually spend a lot of time in school talking with the children about the safe use of the internet (something which we do regularly, but especially so on this day).
With all the remote learning and use of the internet at home during lockdown it is even more important than ever that children are aware of how to keep themselves safe online. Please watch out for information and resources which are being shared with parents which you can use at home to talk with your child about this very important topic.
The internet is a fabulous place if used correctly. We need to make sure that children know how to do this.
Covid Winter Support Grant
Since advertising the Winter Support Grant to parents last week (see the message from 28.01.21 below) we have successfully applied, as a school, for financial support for some families who are facing hardship due to circumstances beyond their control.
If you are in a position where you might need to access such a grant, please do contact the school so that we can help you to apply.
Parent governor vacancy
A text was sent to parents earlier in the week asking for Expressions of Interest in becoming a governor at Broom Leys.
Governors do not run the school day to day, as their role is at the strategic or policy-making level in the school. They help to ensure the educational performance of the school and to ensure the sound, proper and effective use of the school's financial resources. You do not have to be an expert on education to be a school governor, and we value the experience and skills that all governors bring to the role.
A prospective governor will be expected to demonstrate skills and experience that will enhance governance at the school, such as an understanding of finance or Human Resources, a commitment to undertake training and a willingness to engage in the life of the school and its strategic development, over and above merely attending meetings.
The governing body may only appoint a person who has, in the opinion of the governing body, the skills required to contribute to the effective governance and success of the school.
If you have the sorts of skills, qualifications or attributes which you believe could be put to good use at your child's school, we would love to hear from you. Further information can be found here:
www.broom-leys.leics.sch.uk/school-information/governors/governor-recruitment
New gate / ramp
Please be aware that you will see a new gate being installed in the playground railings early next week, at the opposite end to the current gate. We had originally planned to have this completed when schools re-opened back in September but it was not done in time. We are still going ahead with installing the new gate, though, as it will still benefit the school when we finally return to a normal existence.
School rebuilding programme – Apollo Partnership Trust
Parents may see in the news today that the Prime Minister has announced a £1 billion school rebuilding programme and that 50 schools across the country have been identified to share that £1 billion to be either rebuilt or refurbished.
The good news for parents of children at Broom Leys is that The Castle Rock School has been identified as one of those 50 schools. This relates to the part of The Castle Rock School which was previously King Edward VII School.
www.gov.uk/government/news/first-phase-of-school-transformation-launched
What this means for your child is that they will benefit in the future from state of the art secondary school buildings and a modern learning environment where children will be able to thrive.
What this means for the Apollo Partnership Trust, of which we are the only primary school, is that this will further strengthen our vision to provide the best educational opportunities for children and young people in the Coalville area from the ages of 2 to 19.
28.01.21
We now know that it will be 8th March at the earliest before schools can re-open rather than after the half term break. To put that in school days, we have two more weeks until the February half term (which is the week of 15th to 19th February) then a further two weeks until the week of the 8th March. This is still not a guaranteed date and does rely on national data relating to vaccinations and Covid cases. As a school we are desperate to re-open but obviously only once it is safe for us to do so.
Remote Learning
Wow it's hard work, isn't it? This new way of working is new to us all and it is not always easy. All of us have had to learn new things when it comes to the use of technology. It is time consuming for parents, and particularly for those who are working from home as well as trying to support their children. For some families there is a lack of devices such as laptops or tablets (we are trying our best to support families where this is the case). For children it can be a lonely experience when compared to the usual, busy classroom with their friends around them.
Please be assured that we know how hard most of our parents are working to help their children with remote learning. The staff at Broom Leys think that you are amazing. Well done! If, from time to time, you do not manage to complete the day's work don't worry about it – but please do focus on the English and Mathematics. Make sure that your child is having time to get outside to play.
Remember that the staff are always on hand to help. When Mrs. Yeomans or I have made calls home to ask for feedback about what we are providing one of the first things which is usually said is how quick staff are to respond to you. Don't be afraid to ask!
We have spoken as a staff about the amount of screen time which children are having at the moment with remote learning. The teachers are trying to build in learning activities which can be completed away from the screen.
Leicestershire Libraries
Leicestershire libraries are still (virtually) open! To find out about some of the reading and other opportunities which they are offering at the moment, take a look at their February newsletter.
Family Learning
Family Learning have two free online courses starting this week with places still available - Phonics Fun and Story Fun. Both courses will help parents and carers during Lockdown as you support children's home learning.
Information about either course can be found here:
If you would like to enrol, the flyer instructs you to ring the Family Learning Central Enrolment Team on a freephone number. If you need any further information before you enrol you can contact Hazel McDowell directly via email.
The Family Learning Team has a Family Fun area on the GoLearn website which is available to all families and has lots of free resources, activities and ideas for supporting children. This is updated on a regular basis.
Critical Workers
The school does remain open for children of Critical Workers. However, we are actively trying to keep numbers to a minimum for obvious reasons. The guidance clearly states that if you are a Critical Worker and you can possibly keep your child at home then you MUST do so.
The reason this is so important is that we currently have about 120 children still coming into school. That is the size of many primary schools! Having that number of children in school and the associated risks of parents congregating for the drop off and pick up times goes against the whole spirit of lockdown.
Cases in our area are rising, not falling. The latest data shows that in the Hugglescote and Bardon ward (which covers the area around the Botts Way Estate and Bardon Road) in the week up to 22nd January there were 508 cases per 100,000. In the Agar Nook ward (covering the Greenhill Estate across to Meadow Lane) the figure was 569.9 per 100,000. The national figure at the moment is 358.7
With this in mind, I would ask all parents to follow the guidance and IF YOU CAN KEEP YOUR CHILD AT HOME THEN YOU MUST DO SO.
Are you struggling financially due to Covid?
The Covid Winter Support Grant (CWSG) has been provided by the Government to local authorities to support families (with or without children) or individuals who are struggling financially over the winter period with food or energy costs. It runs from 1 December 2020 until 31 March 2021.
The kind of support which is available includes food vouchers, fuel vouchers towards prepayment meter credit, redeemable cash vouchers to pay off energy arrears, or heating fuel purchases, heaters or heated seats.
Those who may be eligible might include families with vulnerable children aged 0-5 or that may not qualify for FSM that are known to social workers and Children and Family Wellbeing Service but are not accessing Free Early Education Entitlement; a family with or without children who are experiencing financial hardship due to Covid, which means that they are struggling to feed their family, to heat their home, or with other household costs etc., or members of the Gypsy and travelling community.
If you think this may apply to you and would like further information, please visit the following website: Covid Winter Support Grant | Leicestershire County Council.
If you would like to speak with anyone at school, please do give the office staff a call and they will do their best to help you.
14.01.21
We have now been immersing ourselves in remote learning for a little over a week. This is a new experience for us all – children, parents and school staff.
As a school we know and recognise that remote learning can put a lot of pressure on parents. We recognise that many parents are juggling working from home whilst making sure that their children are completing the work which is being provided. We also recognise that some parents are juggling having a number of children all trying to access remote learning at the same time and we know these things are not easy.
We are here to help you so please keep in touch and message the teachers when you need to. All the teachers have been amazed by the amount of work which children are managing to complete at home; a big thank you to all parents who are working so hard to manage things at home.
Mrs Yeomans and I have phoned a random sample of parents to find out your views about the work which is being posted and to see how things might be changed or improved as this is, after all, a learning experience for all of us! I would like to thank parents for their overwhelmingly positive feedback; we have taken on board many of the suggestions made in order to make our provision even better.
Frequently Asked Questions
Some questions were raised by more than one parent. I am collating these and have started to put together a Frequently Asked Questions document to share with parents, which can be found here.
Uploading of Work
Parents asked for work to be uploaded the day before it is due to be completed as this helps with getting prepared for the next day. This was already happening in some year groups; it is now happening with all.
Zoom Meetings
Parents asked if it would be possible for classes to get together, maybe once a week, on a Zoom call to touch base with one another. We will be putting these into place – so watch out for messages about them on Tapestry and ClassDojo.
Free School Meals
Parents whose children are eligible for Free School Meals were sent a text last Friday to say that we had received confirmation from the government that the National Voucher Scheme would be available again. We have now been told that it will be available from next week and are getting in touch with parents to make sure that the vouchers are delivered safely to you.
As a reminder: you will receive a voucher for £15 per week per child to spend on groceries at local supermarkets.
Have a good weekend, everyone. Keep safe!
06.01.21
Dear parents,
Here we are in lockdown again. All the staff here feel desperate for the children not being able to come into school, although we recognise that the lockdown is a necessity. Having re-opened the school after the Christmas break on Monday it was quite a shock to hear in the evening that we wouldn't be having all the children back in the following morning.
When schools were closed last March we all followed the rules and stayed at home, doing our best with home learning, even though there were no cases of coronavirus within our school community whatsoever. This lockdown has a slightly more 'serious' feel to it as we know that there are current positive cases in the locality and last term schools across the area were having to send children home to isolate. It is so important that we all do our bit to keep ourselves safe.
Remote Learning
From today, children who are at home are being provided with home learning, either through Tapestry (for children in Foundation Stage) or ClassDojo (for Years 1 to 6). Providing remote learning on this scale and for such a long time is a new venture for us. I am sure there will be glitches along the way but we will do our very best to iron them out; thank you for bearing with us!
Teachers are on hand throughout the day from 8.45 a.m. until 3.15 p.m. if you need any help or support. Please just message them either through Tapestry or ClassDojo. If your child's class teacher is working with Critical Worker children at the time, it may be a different member of staff within the year group who will get back to you.
Teachers will also be ringing you on a weekly basis just to touch base. When we did this last year, we allocated families to one teacher. This meant that if you had more than one child in school you would receive a call from the eldest child's teacher. This time around each teacher will ring the parents of each child in their class – so you will be getting more than one call if you have more than one child in school.
With learning at home, make sure that you build in plenty of breaks for your child, just as they would have at school. It is important for children to stay healthy and active so give them some opportunities to do something more physical. Obviously there are not many opportunities to go out to exercise but Joe Wicks is starting his online PE again next week (9.00 a.m. on Mondays, Wednesdays and Fridays) and there are still lots of ideas on our website, including Mr. Holyland's Challenges which children enjoyed during the previous lockdown.
Home learning for the next six weeks will not be easy, we know that, but the staff at Broom Leys are here to help – whether they are working in school or working from home – so do please feel free to make contact.
Training Day: Friday 8th January
This Friday the school was due to be closed to children (!) for the day for a staff training day. With the current restrictions the training day has been postponed so Friday will be a normal (under these circumstances) day and teachers will provide remote learning for your children.
The training day has been rescheduled for Friday 19th March, in the hope that we will all be back at school by that point. So please make a note of that date in your diary as school will not be open for children on that day.
Critical Workers
School has to remain open for children of 'Critical Workers', those people whose work is critical to keeping the country going during the pandemic. I know that some parents who are critical workers did not submit a request for their child to join a bubble at school as they already had cover for this week but they will need this from next week.
If you are a Critical Worker (a definition of which can be found on our website) and you need your child to attend school but they are not yet doing so, we will be admitting children at the start of each week. Children will be expected to attend every day between 8.45 a.m. and 3.15 p.m., even if you only work for part of the week, they will need to wear school uniform and bring a packed lunch. The request form will be on the website each week from Tuesday morning with a closing time of midday on the Thursday for your child to start the following Monday.
To start on Monday 11th January apply by Thursday 7th January
To start on Monday 18th January apply by Thursday 14th January
To start on Monday 25th January apply by Thursday 21st January
To start on Monday 1st February apply by Thursday 28th January
To start on Monday 8th February apply by Thursday 4th February
Please note that if it is at all possible for you to keep your child at home, even if you are a Critical Worker and are therefore eligible for a place for your child at school, then you should do so. Boris Johnson recognised in his speech on Monday evening that, whilst schools are safe places, they are 'vectors for transmission, causing the virus to spread between households'. Home is safer.
04.01.21
After the Prime Minister's announcement on 4th January that schools must close from Tuesday 5th January, Broom Leys will be moving to online learning. Teachers will be working hard to provide a well sequenced curriculum for all children, which we expect children and parents to access from home from Wednesday 6th January.
The school will continue to be open for children of Critical Workers although the guidance is very clear: if you can keep your child at home then you must. Boris Johnson recognised in his speech that schools can be 'vectors for transmission, causing the virus to spread between households' therefore the fewer children still attending school the better for the time being.
Further information will be provided to parents as it becomes available.