There are 3 AMAZING classes in Year 2:
2HM
Mrs Hemming and Miss McPherson
Supported by: Mrs Curtis and Mrs Gregson
2K
Miss King
Supported by: Mrs Thorpe and Mrs Atkinson
2W
Mrs Wilby
Supported by: Mrs Newman
Our cover supervisor is: Mrs Harrison
-----------------------------------------------------------------------------------------------------------------------------------------
Click here for the Phonics page.
-----------------------------------------------------------------------------------
LATEST NEWS
Class Dojo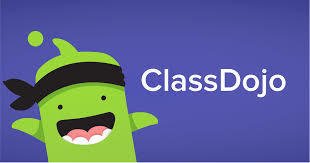 Please can all parents ensure that they have joined their child's CLASS DOJO account. A letter with a QR code was sent home and a text has been sent out containing a link. Please ensure you set up both a parent and child profile so that as a parent you can directly message the teacher if required.
We use Class Dojo as a platform to communicate with parents. It is important that all parents are connected to be able to receive important updates and to also be able to communicate directly with teachers.
Pirate Day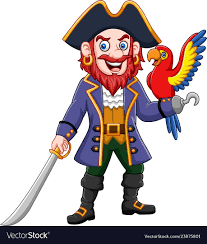 We will be having a PIRATE DAY on the last day of term! Your child can dress up as a pirate for the day. Please don't worry about buying an outfit, homemade would be lovely.
Homework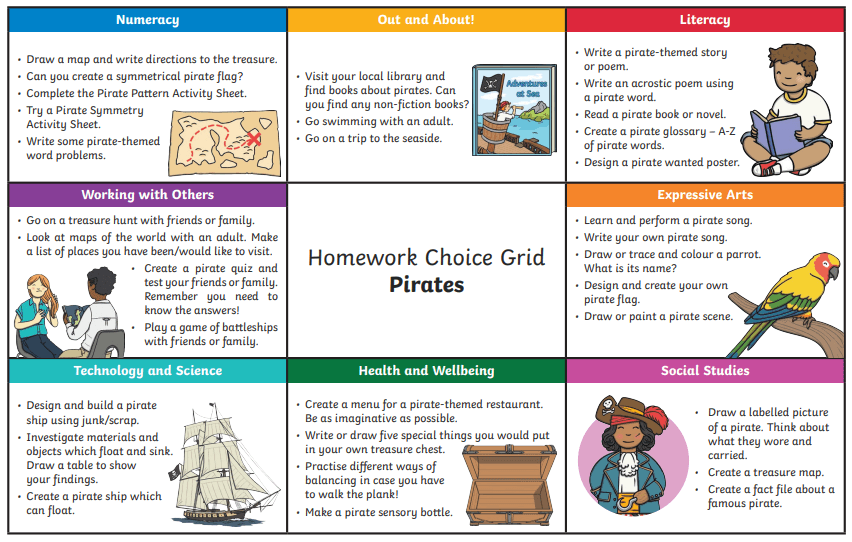 Our homework this half term is PIRATE themed. This homework is set as a CHOICE GRID so your child can choose a minimum of two activities to complete and hand in (or photograph and upload to Class Dojo) by Friday 16th October.
Spellings
LADYBIRDS Autumn 1 Spellings available HERE
LADYBIRDS Autumn 2 Spellings available HERE
BUTTERFLIES Autumn 1 Spellings available HERE
BUTTERFLIES Autumn 2 Spellings available HERE
---------------------------------------------------------------------------------------------------------
General Information
At the start and end of the school day
Please check for regular updates regarding drop off and collection arrangements.
Weather
The children spend part of each school day outdoors (whatever the weather) so please could you ensure that your child has the appropriate clothing. (Labelled with your child's name so we can return if lost!)
Hot and Sunny - Hat and sun cream (your child will need to be able to apply this themselves)
Cold - Warm waterproof coat, hat, scarf and gloves.
Wet - Waterproof coat and Wellington boots (if desired)
PE
Please leave your child's PE kits in school all week.
All children need a named indoor and outdoor PE kit.
Indoor Kit: Black shorts, white t-shirt and pumps.
Outdoor Kit: Jogging bottoms, t-shirt/long sleeved top, jacket and trainers.
Each class has TWO P.E sessions per week.
2HM on: Wednesday and Friday
2K on: Tuesday and Wednesday
2W on: Monday and Thursday
Playtime Snacks
Your child is welcome to bring in their own healthy snack to school. This MUST not contain nuts as we have children in school with severe nut allergies.
This term we are learning:
Mathematics - We will begin the Autumn term by exploring place value. We will investigate tens and ones, how to partition a number and look at different ways to represent a number. We will identify odd and even numbers, double facts to 20 and addition of one and two digit numbers. Alongside this, we will continue to develop our fluency, problem solving and mathematical reasoning skills, involving plenty of 'maths talk' to develop our learning and the different approaches we can use to solve problems. We will have additional daily fluency practice involving working efficiently, counting in 2's, 3's, 5's and 10's as well as memorising our number bonds.
English - This half term we will be learning through the theme of 'The High Seas'. Children will be focusing on sentence structure, coherence and accuracy. We will re-tell our own version of the beautiful story: 'Grandad's Island' and also explore the life of a pirate and write a non-chronological report about this. We will then be exploring 'Into the Woods' theme. This will include traditional tales.
Phonics - Initially, this term we will be re-visiting and consolidating all the sounds taught in Year 1 (Phase 3/5)
Science - We will be exploring different materials this term. We will identify and describe the properties of a range of different materials.
Geography - This term we will be learning all about sunny St Lucia!
PE - This term we will be developing our football and hockey skills.
RE - This term we will be learning about who is Jewish and what do they believe?
PSHE - This term we will be learning how to manage our emotions and friendships.
Art - Theme: At the Seaside, we will explore different materials (linking to our science!) and mixing colours to create a 3D seaside collage!
ICT - We will be learning about how to keep safe online and learning basic programming skills.
Music - We will explore music making within the theme of 'treasure island'.
FREE Resources and Activities
Twinkl are offering a month's free subscription. You will need to sign up using the code

CVDTWINKLHELPS or PARENTSTWINKLHELPS. Here you will find lots of resources to help your child to learn the objectives set out below.

Teach Your Monster to Read is offering FREE online subscription or app download (normally £4.99). On this app your child can practice their phonics, reading and spelling. Great for regular practice!

Phonics Play are offering free access to all of their phonics games. The children play these in school and love them! Log in with march20. The

TTS have produced free learning packs.

The Key stage One is available to download here.




Pobble 365 has a different image daily with activities you can do related to the image. Activities include questions, writing the end of a story or correcting sentences based on the story.

For as long as schools are closed, we're open. Kids everywhere can instantly stream an incredible collection of stories, All stories are free to stream on your desktop, laptop, phone or tablet.

Number Bots and Times Table Rock Stars

Problems signing in? Click here for a step by step guide.

Still problems? Try theses printable sheets.

Click on the links to download a home learning pack.

The Royal Mint - Kids Hub The free resource is

available on The Royal Mint's website and provides a host of quizzes, games and educational tools – brought to life through iconic coins, and popular children's characters such as The Gruffalo and Wallace & Gromit.
Reading
The most important reading objectives to work on are:
To read every day to an adult

To answer questions about a text they have read

To read all Year 1 and Year 2 common exception words
In Year 2, most children will be able to read simple texts. They will be learning to answer questions about what they have read.
Some children will not be able to read simple texts yet. Please refer to the Phonic section (Phase 3 and 4) to help develop their skills.
Some children will be able to read more complex texts and will be able to answer simple questions.
It is important to make sure that your child is reading every day so they do not lose the skills they have already learnt. Please find lots of links to fantastic reading opportunities for you and your child to enjoy.
Reading Resources
This reading rockets website has six games you could make with your child to make reading fun! Why not give it a go?

Phonics Play Comics can be found here for all Phases to help your child to practice their sounds.

A new Julia Donaldson show will be available every Thursday from 4pm on Facebook.

Daily story time with David Walliams at 11 am. Don't worry if you miss it, you can catch up too!

Reading Eggs have a free 30 day trial you could sign up for. Access Reading eggs online or download the app.

Oxford Owl has a free library of e-books that you can search by age.

Early Reading

Reading CVC words (i.e. sun, cat, dog)

Phase 2 Matching Pictures and Words

Confident Reading

Year 1 and 2 Common Exception Words

(Children should be able to read and spell these words)
Phonic Resources
Maths Resources
NEW! NCETM Online Video Lessons (updated weekly)
First week focus is multiplication.
Available here:
https://www.ncetm.org.uk/resources/54454#KS1Multiplication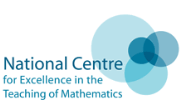 We cover lots of different topics in Maths in Year 2. Our most important number skills are;
To know and recall multiplication and division facts

(To know by heart, and recall quickly, 2,3,5 and 10 times tables and division facts)

Snappy Maths - online games and printable worksheets:

Don't forget to log in to Times Tables Rock Stars to practice your times tables

To add and subtract 1 and 2 digit numbers

(with and without exchanging)

Adding 2 digit numbers with exchanging
Printable worksheets and plus lots more questions and links at the bottom of the page.

To know number bonds to 10, 20 and 100 (children should be able to remember these or to work out mentally)

What are number bonds?

Number bonds to 10 (can change to number bonds of 9,8,7,6,5 if 10 is too hard)

To name common 2D and 3D shapes, and their properties

Explanation of what Year 2 children need to know regarding shape

To understand half, quarter, three quarters and thirds

Explanation of things Year 2 children need to know regarding fractions

To tell the time to the hour, half hour, quarter hour and five minute intervals

Explanation of things Year 2 children need to know regarding time

To recognise coins, to add and subtract coins to find the value, to work out change

Explanation of things Year 2 children need to know regarding money
Topmarks- interactive maths games - Find lots of specific maths games here
BBC Bitesize